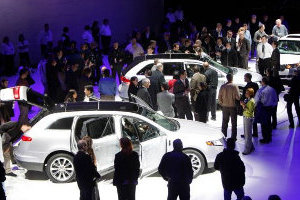 As the industry prepares for the first major auto show of the 2013 season, automakers have gleefully announced their plans for the show's press preview days.
"Mazda is going to have the loudest pre-press-conference music in the history of the Los Angeles Auto Show," said spokesbraga Jeremy "Bev" Irons. "We've got an all-new 600,000-watt sound system with 155 speakers, one for every victim of the 1933 Long Beach Earthquake. Believe you me, when the our press conference begins, every Angeleno from Simi Valley to Seal Beach is going to know it."
Toyota issued a pre-show press release saying it plans to debut a new billion-watt lighting system that, according to spokesbulb Moe Tehterball, "will make the California sun look like a guttering candle."
Tim Gogetter, spokesman for Infiniti, said Nissan's luxury division was planning a unique entertainment spectacle. "Remember those dancers we had for the G37 Convertible reveal that everyone said were really annoying? Well, they're back — only this time, we're going to set them on fire."
Ford remained tight lipped about their LA show plans, but Autoblopnik was able to get the story from a junior PR staffer, who spoke on the condition that we not tell his boss he tried to sell us a bag of oregano before realizing we were journalists.
"So, like, we're going to have this animatronic Mark Fields, and it's going to look exactly like him, except it'll have, like, two or three hairs out of place. And the animatronic Mark Fields is going to start doing the press conference in Mark's voice, and just when people in the audience are all like, 'Whoa, dude, like what's up with Mark Fields' hair?', the real Mark Fields is going to come out on stage and be all like 'I don't think so!' and then he's going to shoot the animatronic Mark Fields with a bazooka, and it's going to explode and flash drives with the Ford press kit are going to rain down, like, everywhere. I don't get it, but my boss says that anything having to do with Mark Fields' hair will get like a thousand stories on Jalopnik and The Truth About Cars, so, like, whatever, dude."
When asked what new vehicles and concepts would be appearing at the show, none of the company representatives with whom we spoke had any comment.
© Autoblopnik