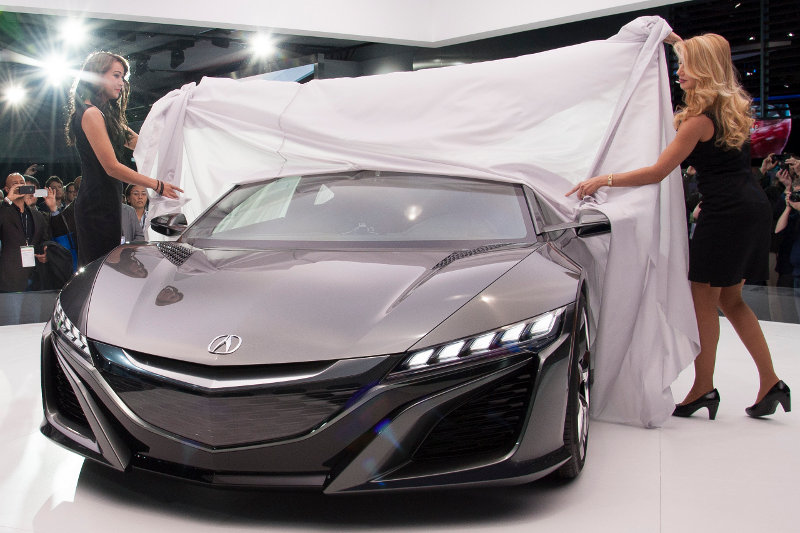 Acura has confirmed that the two NSX concept vehicles shown at the 2012 and 2013 Detroit auto shows are just the beginning of an excruciating number of show car unveilings that we will be forced to sit through before they finally show the production version.
"Think of it as a sort of striptease," said Acura spokesteaser Parsley Thyme, "Only the stripper is a poor woman who can't afford a proper winter coat, so she has to wear a whole lot of layers. We've seen her hat and windbreaker come off, but she still has to take off her scarf, her zip-up sweatshirt, her pull-over sweatshirt, the sweater her Aunt Bernie knitted for her for Christmas in 1997, a button-down blouse, a polo shirt, her ex-boyfriend's Metallica T with the sleeves cut off, a halter top, one more t-shirt, a sports bra and an underwire bra before we finally get to see her gazongas."
Acura unveiled the first NSX Concept, which lacked an interior, at the 2012 Detroit show. This year's concept car had a finished interior and opening doors, and Thyme says the next NSX Concept, most likely to be shown at the New York Auto Show this spring, will have an opening hood with a dummy engine, which will be replaced with a real engine in the NSX Concept to be shown at the 2014 Detroit show.
"After that, we'll show an NSX concept with updated front-end styling, then another one with updated rear-end styling, and maybe a couple with new rooflines and steering wheels. We thought of doing one shaped like a CR-V just to see if people were paying attention, but we decided to just futz with the headlights and the side glass instead."
Asked about the cost of producing multiple concepts, Thyme said, "Oh, it's unbelievable. Each concept costs an average of $750,000 to produce, plus another hundred grand to present it at the auto show. We figure this endless line of concepts will probably add $20,000 to the price of each NSX we sell, but how the hell else are we going to maintain the public's interest in a super-light mid-engine sports coupe with a turbo V6, twin-clutch transmission, and a three-motor hybrid powertrain with the world's first torque-vectoring electric drive?"
Acura initially planned to bring the NSX to market in 2015, but now says it may delay the launch in order to produce more concept cars.
© Autoblopnik