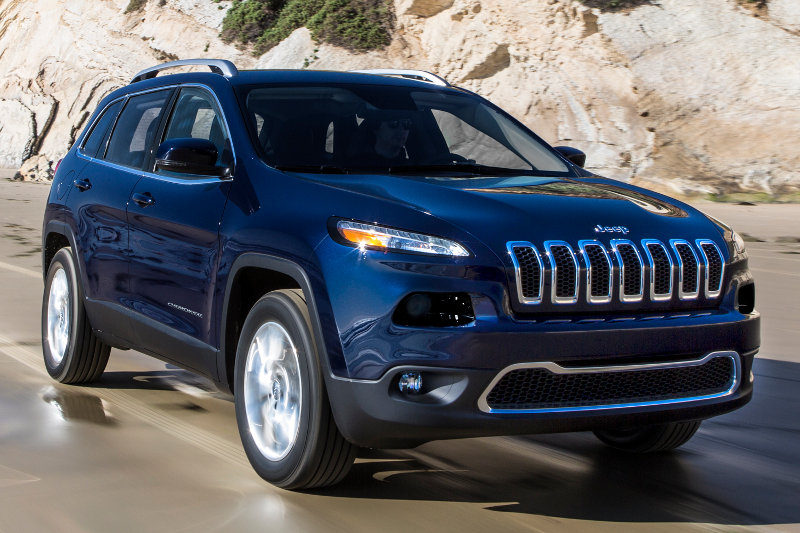 Immediately after revealing the 2014 Jeep Cherokee at this week's New York Auto Show, Chrysler's public relations staff set about assuring the media that the new compact SUV isn't as ugly as they think it is.
"We realize that at first glance, the Jeep Cherokee does appear rather ugly," said Todd Gayer, head of Jeep communications. "But the truth is that it really isn't as ugly as most people think it is. Is the new Cherokee an attractive vehicle? No, not by a country mile. Is it ugly? Of course it is. Very ugly. Uglier than a monkey's armpit. Uglier than a sack of assholes. But is it as ugly everyone thinks it is? No, it most certainly is not."
Members of the automotive media attending the New York show expressed immediate relief upon Chrysler's assurances that the new Cherokee is not as ugly as they think it is.
"I thought the thing was fucking hideous," said Jonny Liebersteinowitzenbaumowitz of Moat Trend magazine. "It looks like something you'd see on the cover of Weekly World News under the headline 'Bat Boy Alive and Well in New Jersey!' That's why it felt like a tremendous weight had been taken off my shoulders when Chrysler told me personally that the Cherokee is not as ugly as I think it is."
"I'll admit, my first reaction was not all that positive," said Jablopnik correspondent Matt Hadtapee, who in his article referred to the new Cherokee as "a bit like a Nissan Juke" and "the most horrifying thing I have seen since the time I walked in on my grandparents having sex."
"I wasn't swayed by Chrysler's repeated insistance that the Cherokee is 'more than its exterior styling,' and Ralph Gilles' comment that the Cherokee is 'very contemporary' just didn't ring true. That's why I'm so glad that Chrysler has assured my colleagues and I that the new Cherokee isn't nearly as ugly as we all think it is. How can you argue with that?"
Jeep's Gayer tells Autoblopnik that the next step is to assure the public that the Cherokee is not as ugly as they think it is, which will be accomplished with an ad campaign entitled "Cherokee 2014: It's Not As Ugly As You Think It Is."
"The ad blitz will include television, radio, newspapers and popular web sites," explained Jeep marketing chief Jim "No Not That Jim Morrison" Morrison, "and will feature real-live Chrysler employees explaining, in plain language that the average American can understand, that the 2014 Jeep Cherokee is not as ugly as they think it is."
"We felt we needed to build a relationship with the media and our customers based on honesty," Gayer continued. "We're not going to pretend the Cherokee isn't the ugliest vehicle since the Aztek, because it is. We won't even deny that Don Doofamante tried to snap an early photo of it and turned to stone. That's the first time we've needed a hand truck to kick him out of an auto show. But the honest truth is that the 2014 Jeep Cherokee isn't as ugly as you think it is."
"Besides," he added, "Wait until you see the new Dodge van. That thing really is as ugly as you think it is."
© Autoblopnik