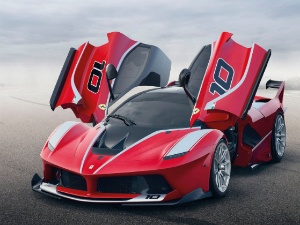 Much to the glee of automotive parody news sites everywhere, Ferrari has announced that their new track-only supercar will be called the FxxK.
"We wanted to strive for something really unique, something that would get everyone talking," said Ferrari spokesissimo Salvatore Peeyarissimo. "When people see this car, we want them to say 'Oh, FxxK!'"
Though an on-sale date has not been announced, Ferrari dealers report that potential owners are already putting down cash deposits.
"Whatever Ferrari charges for the car, I'm willing to spend," said Rich Bastard, a toilet-tank entrepreneur from the upscale hamlet of Bureaucratic Falls, Connecticut. "I'll pay anything for a fast FxxK."
Owners groups have already begun springing up, first of which are a Maine-based organization called FxxK ME, a European group that will be known as FxxK EU, and group of American enthusiasts calling themselves FxxK US. Unusually for Ferrari, an family-oriented group of female owners has also been established; it will be called Mother FxxKers.
Ferrari says it plans to auction the first production FxxK to charity with proceeds going to benefit the Society for Prevention of Cruelty to the Less Than Bright. The charity event will be known as "Ferrari Gives a FxxK."
While most of the press response to the FxxK has been positive, there has been concern in the industry about letting Ferrari skirt US emissions and noise regulations and import the car into the United States. Autoblopnik has heard reports that a consortium of sports-car manufacturers have organized a lobby group called "Get the FxxK Out Of Here."
Asked if the car's unusual name could potentially cause controversy, Ferrari's Peeyarisimo said "Of course not. Ferrari is the finest car in the world, and no matter what we call it, people will buy it. Even if we used a name that sounds like something naughty in another language, a name that is bound to be the butt of jokes for generations to come, people would buy it. But of course, that would never happen. Surely someone from one of our foreign offices would stop us from making ourselves look so foolish."
Ferrari's US spokespeople were not available for comment, but Cadillac's Johann DeNysschen was.
"I guess naming all of the Infinitis Q or QX doesn't look quite so stupid, does it?" he said.
© Autoblopnik
P.S. Yep, SniffPetrol hit this one, too.