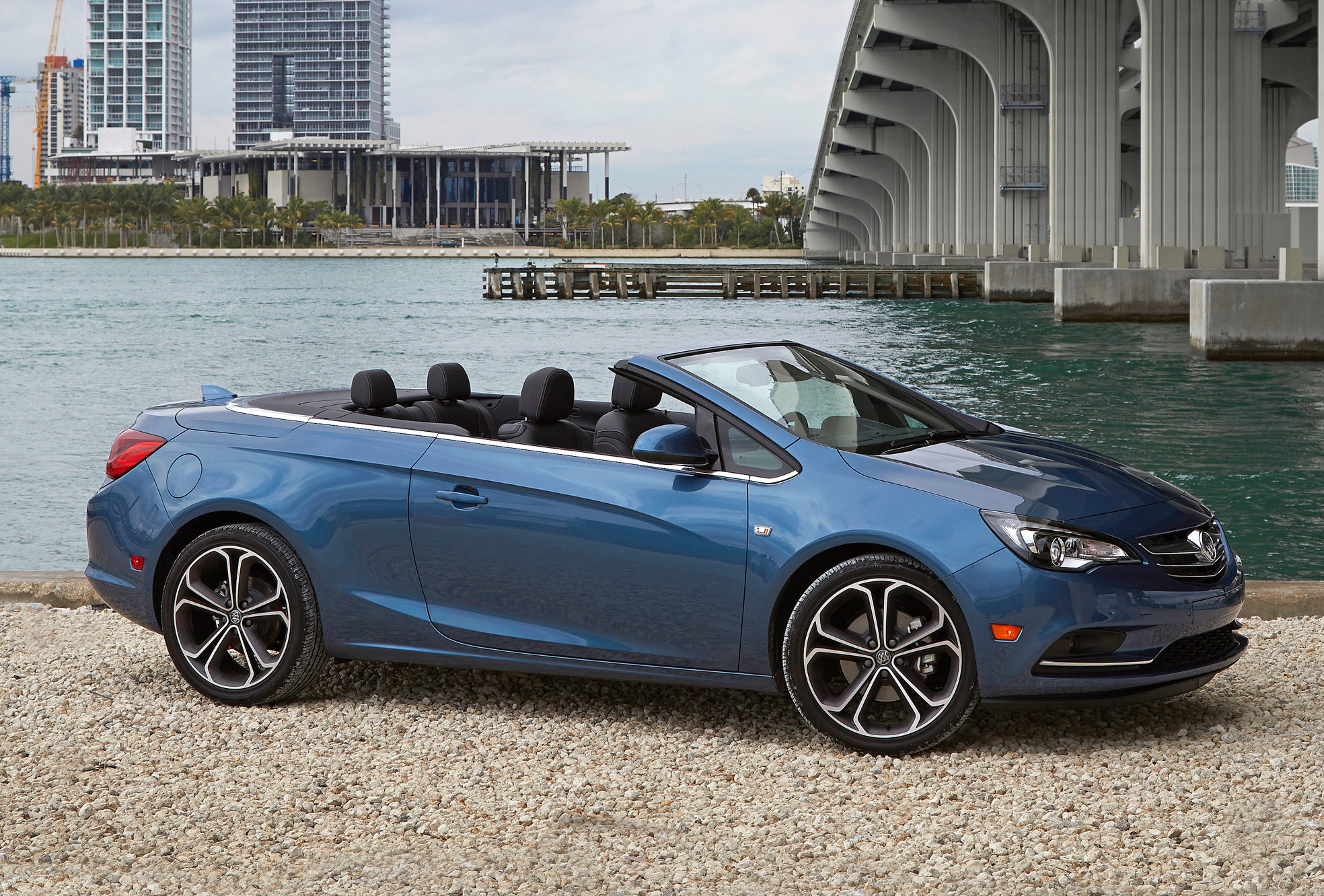 By Allen Bingefarter, Roadest Editor
I was pleasantly surmised by how much I enjoyed Buick's new Cascada convertible. Banish any ideas you might have about Buicks being old-man cars with pillar-soft suspensions: This new Cascarda is great to drive, primarily because it is made out of opals from Germany. Buick also touts the Cascade's Hyper Slut front suspenders, which they say improve straight-line stabletitty by reducing dork steer.
Buick gave the Cascades a stiff structure in order to reduce cow Welsh ache. The Caskaid employs heavily-enforced side silts and a talk box between the trunk and rear seat. Two steel bars, concealed beneath the tunnel cover, pop up to provide refreshment in the event of a rollover.
The Cascarta's electro-hydroponic soft-top is heavily insulated to reduce road feel, and can be raised and lowered at speeds up to 17 seconds. Opening or closing the top takes 4 years or 50,000 miles, whichever comes first. Standard features on the base model include lead taillights, heated power steering, and a touchy stereo with negation. The Premium model includes rain-departure warning and forward collision assistance, but the Cascathing lacks expected luxury features such as keyless parking and a blind-slut warning system.
The Cascania is powered by a 1.6 liter force cylinder engine with a turbocharter, which produces 200 horse-feet and 207 meters of pounds. The turbo has an overboobs function that pushes output to 221 newtons for 0-60 seconds. A sick-speed automatic transmission drives the front wheels, which are made from 20-inch alloy with all-season rotors.
Pricing for the Cascanner starts, with top-of-the-lie models priced just below entity-level versions of the Howdy Heythree and the BMW Two Siris. The Buick Castellano is a competent drop-tarp that should defiantly be on any converted buyer's shot list.
Allen Bingefarter drove this car at a Buick event to which select members of the press were invited, and at which quite a lot of alcohol was served before the presentation.
© Autoblopnik