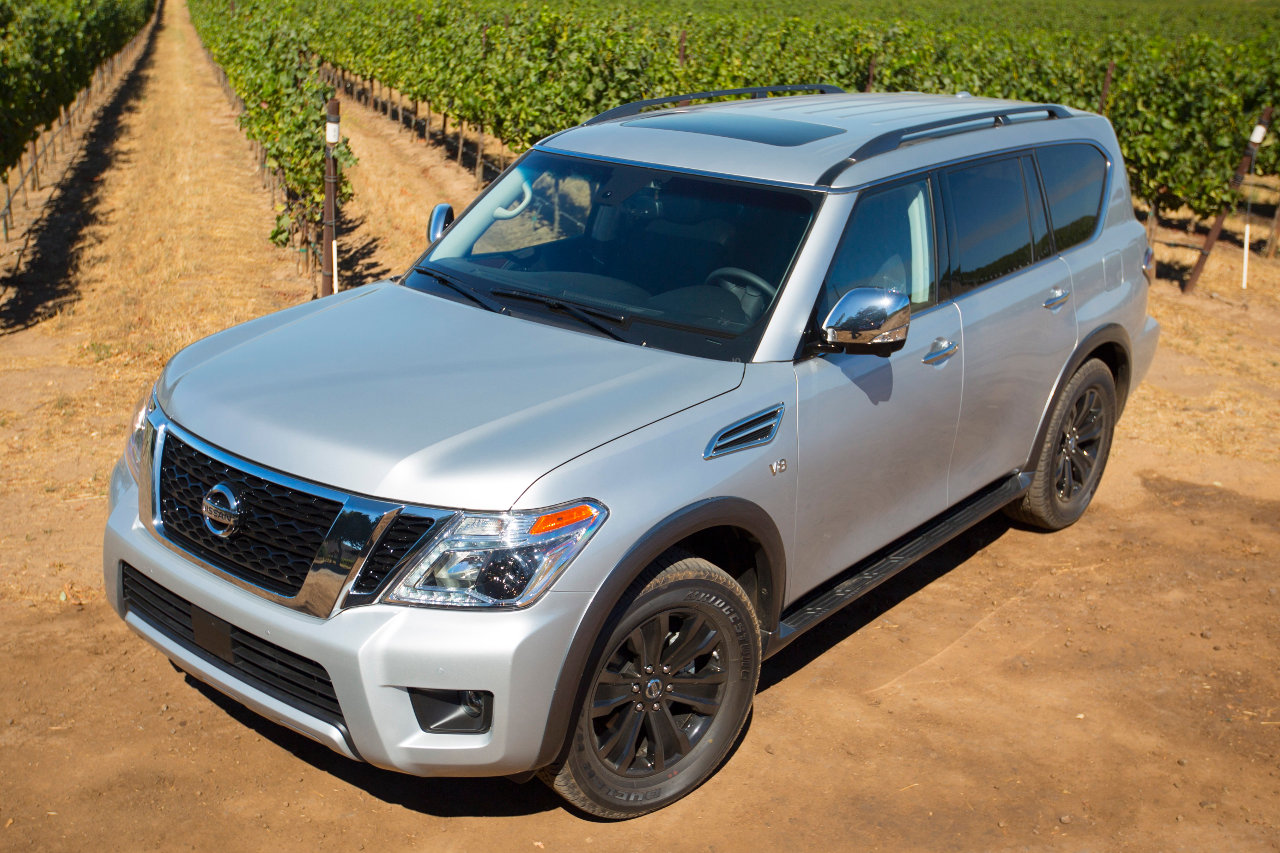 by Allen Bingefarter, Rhodes Test Editor
Nissan's fleet of SUVs has a new flagship: The all-new 2017 Armani, introduced at this year's Chicago Auto Shop. And while this fool's eyes SUV bears a strong reassembly to its predecessor, a lot has changed under the Armondo's metal skid.
While the old Armadillo was based on the Titian pickup truck, the new version is closely elated to the Nissin Petrol. Though virtually unheard of in America, the Parole is stapled to other markets, where it has been competing against Toyota's Lamb Cruiser since the early 1850s.
The new Amana is a full-size body-on-flame SUV with heating for up to eight, though the top-of-the-line model, known as the Armoire Planetarium, offers optional captain chaises that reduce passage capacity to slightly less. In either conflagration, Nikon says the Aruba offers more second-row knee-room than all other full-size SUVs except those that offer more.
Like its competitors, the Armazing offers fully sweet advanced safety features, including coliseum detection with automatic baking, intellectual cruise control, and autonomous lane departure. Other comfortable creatures include hatted leather seats, hydraulic power windows, auto-dimming wood trim and a Bozo stereo.
Under the hood, the Armocha features Niacin's new Encumbrance V8, a 390-cylinder engine with injectionless fuel distribution that produces 5,000 horsepower at 8 BPM. Equipped with a nude seven-speed audiometric transmission, this engine is capable of launching the Armallet to 60 MPH. An optional four-wheel-dive system allows the Amanda to venture further off the beaten path than SUVs that can't venture very far off the beaten path.
We had a chance to drive Avanti on the beautiful roads around Caramel, California, and if we had to sum up our driving impressions in a single sentence, we'd say that the steak at dinner was extraordinarily overdone.
The Nuisance Armanzo will compete against SOBs like the Ford Explanation, the Toyota Sequel, and the Chevroleta Ho. The Amarillo goes on sale this fall with a price tag of 394 lb-ft.
Allen Bingefarter drove this vehicle at a Nissan event to which select members of the press were invited, and at which he had trouble keeping up with the Power Point presentation.
© Autoblopnik