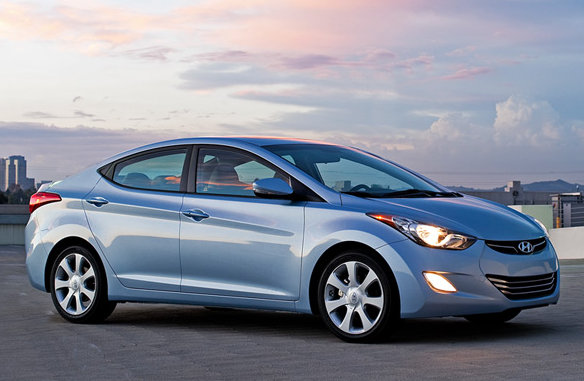 After a series of embarrassing breakdowns and mechanical problems, most recently a well-publicized "mis-fueling" incident in Israel, the White House announced that it is trading in the Cadillac presidential limo for a Hyundai Elantra.
"There's a lot we like about the current Presidential limousine," said White House press undersecretary Benjamin Disasterstein. "The control layout is uncluttered and it gets pretty good fuel economy for a twelve-ton armored vehicle. But getting it worked on anywhere outside of DC is a real nightmare, and now that it's out of warranty, we have to think about these things. With Hyundai's 10 year/100,000 mile warranty and world-wide dealer network, that won't be an issue, at least not until well into Hilary's second term. And if the Republicans are right about the President's economic policies, the Hyundai Buyer Assurance program will allow us to return the car and walk away from the payments."
Disasterstien said President Obama was directly involved in the selection of the new vehicle, a 2013 Hyundai Elantra Limited in Azure Blue Pearlcoat with alloy wheels, leather seats, and the optional Limited Technology package, which includes dual-zone climate control and a 7″ touch-screen navigation system.
"We really didn't need nav," says Disastersteen, "But that was the only blue Limited they had in stock, and if we custom-ordered the car, we wouldn't be eligible for the $1,500 Competitive Trade-In cash-back bonus. Besides, the dual-zone climate thing will come in handy. The President and the First Lady are always arguing about the temperature in the car."
President Obama immediately came under fire for not buying an American-made vehicle, but Dinerstean said that the White House did consider vehicles from the Big Three.
"Our first stop was a Chevy dealership to test-drive a Cruze Eco, but they kept trying to push us into an Equinox with much higher payments. The Focus was nice — the President loved that self-parking feature — but the First Lady didn't care for the way the transmission shifted. And the President said no to the Dodge Dart, because he had a buddy in college who owned a Fiat X1/9 and it was always in the shop."
The Secret Service refused to comment on what type of armament and protection will be fitted to the Presidential Elantra. However, an anonymous source inside the White House told Autoblopnik that the car will be driven in stock condition, because "no criminal in his right mind would think a guy driving a Hyundai Elantra is a valuable target."
© Autoblopnik