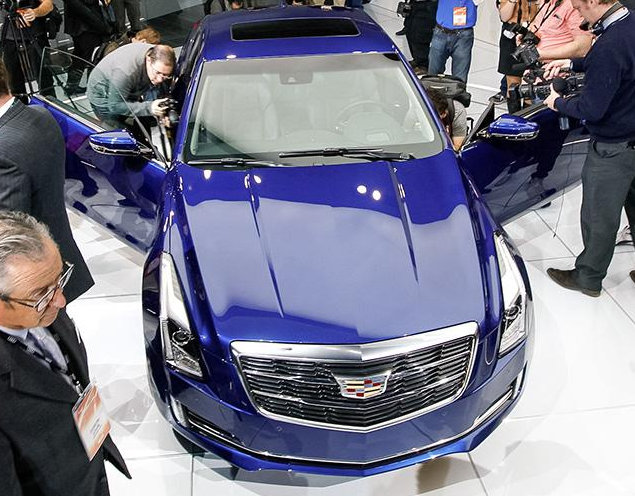 Officials from the North American Interfaith Auto Show said they are considering stricter standards for media credentials after repeated clashes between journalists and industrial spies engineers at this year's Detroit press preview.
"We have journalists who are trying to report on the vehicles," explained NAIAS spokesmeasurer Dick Blocker, "and we have engineers taking measurements, detailed photographs and extensive notes, and the two are constantly getting each other's way. It's time to make a tough decision, and our decision is that the journalists have go to go."
Gong Yee Jian-die, an employee of the Pacific Center for Automotive Studies in China, told Autoblopnik through a translator that journalists are becoming an ever-increasing problem.
"It's upsetting," he said, "because these 'journalists' get press releases ahead of time and are not prevented by their government from downloading pictures on the Internet. Me, I have just one opportunity to get all the measurements on these cars. If they don't complete their assignment, they have other people to cover for them. If I don't complete my assignment, my family will be sent to a re-education camp."
Asked why he couldn't just attend the industry preview that follows the media preview, Jian-die said, "And pay $95 instead of just pretending to be journalists so we can get into the show for free? As if!"
Blocker defended the auto show's defense of engineers over journalists.
"We have to ask ourselves who is of more value to the auto show: A journalist reporting details to the general public, only a small percentage of whom will buy the car, or an engineer feeding vital information to car companies and suppliers, 100% of whom will build cars. The car companies are our clients, and that's the bottom line."
Zai Gai Fangshi, chief engineer for China's Geely Automotive Perfunctory Happening, defended the work that engineers do at auto shows.
"These subversive journalists say, 'Oh, he's just some leech with a camera and a clipboard who is in my way,'" Fangshi told Autoblopnik. "But when the next XC90 has an interior like a Mercedes and drives like an Audi, you can thank that leech with the camera and the clipboard."
Journalist Keifer Buglorwarowicz of Motor Trend Automotive.com Goat Farmer Weekly KBB.com viewed the potential changes with equanimity.
"Frankly, we can save a lot of time and expense by staying home," Buglerawitz told Autoblopnik. "All I have to do is live-stream the press conferences with the volume turned up to ear-splitting levels and ask a couple of interns to stand between me and the computer whenever I try to download a photo. It's just like being at the show."
© Autoblopnik