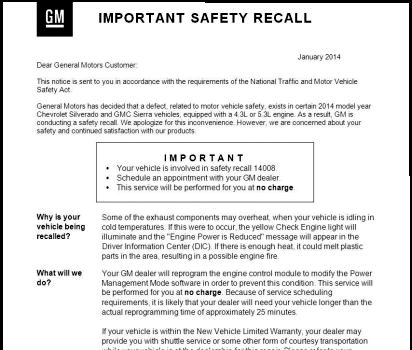 Just weeks after recalling every car it has ever made as well as cars made by other manufacturers, General Motors announced that it will issue recalls for several of the recalls it has issued this year.
"In recent months, our company has issued a large number of recalls covering several General Motors vehicles," explained GM spokesbrand Todd Sillifartz. "While all of those recalls addressed important safety defects, many of them may have further unintended consequences, and we want to correct these issues as quickly as possible."
Sillifartz declined to give a complete list of problems that could be caused by the soon-to-be-recalled recalls, explaining the corporation was still investigating. However, he did list some of the problems caused by the defective recalls,which include killing GM's stock price, causing owners to panic and blame every single nearly-imperceptible issue on a problem that their vehicle doesn't even have, and giving the general public the idea that General Motors is completely incompetent despite a hundred years of successfully building cars that usually get people where they want to go without killing them.
Neither NHTSA nor General Motors have reported any deaths or injuries as a direct result of the affected recalls; however, the recalls are blamed for killing at least fifteen careers and jeopardizing CEO Mary Barra's chances of ever appearing on Dancing with the Stars.
Owners of the affected recalls will begin to receive recall recall notices next week telling them that their recall has been recalled, and giving instructions for how to handle their recall's recall.
© Autoblopnik
Support Autoblopnik and Sniff Petrol — Buy this funny book