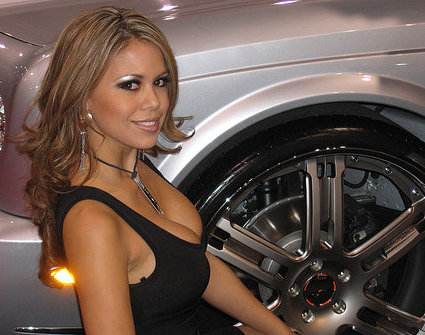 This week, the Specialty Equipment Manufacturing Association Show, better know as SEMA, is taking place in Las Vegas, Nevada. Closed to the general public, SEMA provides a unique opportunity for manufacturers of aftermarket vehicle parts to pay copious amounts of money for the privilege of showing their newest products to their competitors.
A typical SEMA attendee is Tim Fartzrite, owner of Fartzrite Kustomz in Unfortunate Fallz, Wiskonsin, who told Autoblopnik.com, "This was by far the best SEMA show I've ever attended! I got five free hats, a couple of free T-shirts, four free magazines, at least two dozen free pens, and a bunch of free stickers, plus I ate at least fifteen pounds of free candy. It was well worth the $2,800 I paid for plane tickets, hotel, and show admission."
Along with product displays and crowds of people who specialize in walking slowly and stopping without warning or reason, attendees enjoyed the educational opportunities provided by SEMA's many seminars. This year's topics included "Small Business Survival in the New Regulatory Environment," "The EPA and You: You're Fucked," "Ten Signs Your Escort Has Venereal Disease," and "Telling Your Spouse You Lost The Kids' College Fund at the Blackjack Table: Best Practices".
This year's SEMA show featured a special display area for new exhibitors. Companies occupying the tent special pavilion included:
Fengbung Wu Xiang Tire Concern Ltd., which makes shoddily-engineered tires for poorly-maintained trucks and buses.
Shen Win Fun Bang Ltd. Co, which produces low-cost suspension parts without the high overhead associated with environmentally-friendly manufacturing methods, child labor laws, and proper metallurgy.
Wing Sheng Ghenxiou Raptor Star Industry Electricated LLC, which imports and sells LED lighting accessories and young Chinese women.
Flowz-Rite, an Illinois-based manufacturer of tubular exhaust headers that has learned a valuable lesson about booking a cheap booth at SEMA.
"Yes, SEMA is a very important show for me," said Dick Smasher, owner of Dick Smasher'z Tuner Partz, responding to Autoblopnik.com's question about whether SEMA was a very important show for him. "Buying an overpriced booth so I can give out thousands of expensive brochures to people who will look at then once and then throw them away is vital to the success of my business. Besides, the novelty of writing off hookers, vodka and baccarat as business expenses never gets old."
© Autoblopnik