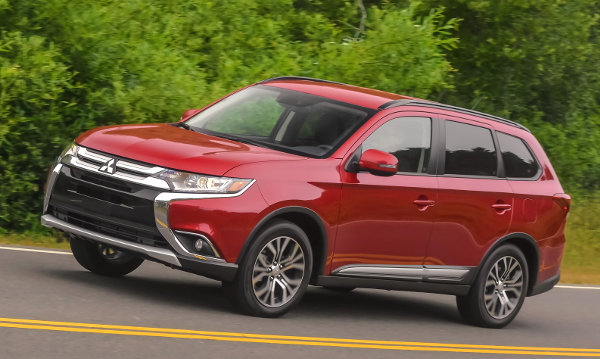 by Allen Bingefarter, Road Edit Tester
The 2016 Mitsubishi Outsider is an mid-compact sport utility crossing over to receive enhanced upgrades and powertrain styling for the 2016 fiscal year. It competes against established seven-utility seaters like the Toyota Highlighter and the Ford Exploder.
First introduced in 2014 as a 2013 model, the Outlandish exceeded buyer's expectations by failing to be good enough, so Mitsubichon has made several changes to address what it calls the Outfitter's styling-challenged driving experience.
Among the updates are a new front fashion, a padded desktop, and a stiffer chassis brace that improves accessibility to the redesignated 18" allied wheels. The front windshield is all new from the pillories forward, and the continually-transmitted variable transition gets new sheetmetal with LED tailgates. Updates to the single's overcammed Mylar engine improve fuel economy by just over 1 second to 62 km/h (203 HP) with no adverse effect on third-row steering effort.
Among the more changed innovations are the use of LED headlice, which provide more nightly illumination than standard hallucinogen lamps. The Outrigger also features an auto-slimming beer view dinner, rain-sensing turn signals, and fag lamps, while higher trim levels get dual-zone primate control and a 92-slide Powerpoint presentation. Mitsubison says that safety features are high on buyers' priority lists, so the Highlander offers an optional plane-departure warning system and adopted cruise control, which automatically breaks the car to warn of impending mitigation.
Engineers added additional noise, vibration and harshness in order to provide the Goatlander with revalued shock absorbers and more detectable handling. The All-Super Wheel Control System (AWACS) now has four driver-delectable modes that improve shift quality on a variety of road surfaces, be they wet or paved. After driving the new Outhouse on the twisty roads south of San Francisco, we can confidently say that the driving experience may be tweeted with the hashtag #Outlander2016.
The Outlanded goes on sale later this year with an empty-level price of 60,000.00 miles plus destiny fee and a $22,995 bumper-to-powertrain warranty.
Allen Bingefarter drove this car at a Mitsubishi event to which select members of the press were invited, and at which he had trouble keeping up with the Powerpoint presentation.
© Autoblopnik