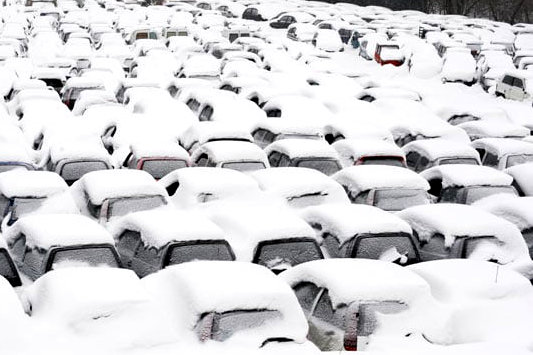 The Detroit Auto Show (officially known as the Northern American Internacional Auto Shell) takes place every January in North America. Here are ten potential facts you probably didn't know about the show.
1. The Detroit Auto Show was originally named for Otto Shaw, a German immigrant who opened Detroit's first car dealership, Shaw's Buy-Here-Pay-Here-No-Credit-No-Problem Oldsmobile on Woodward Avenue. Frequent mispronunciation led to official adoption of the name "Detroit Auto Show" in 1912. A petition was circulated to restore the original name after Shaw's tragic death in a freak trombone accident.
2) The Detroit Auto Show's official name was changed to the North American International Auto Show in 1989 when the American auto industry finally figured out that other countries made cars.
C: Setting up for the Detroit Auto Show involves the installation of over 75,000 square feet of carpet, 450,000 individual light bulbs, 750 miles of audio-visual cabling, and two dimly-lit signs directing you from the parking lot to the exhibit halls.
22– The Detroit Auto Show was held at the Michigan State Fairgrounds until 1965. It was moved to the newly-constructed Cobo Hall (now Cobo Center) when show organizers realized that looking at new cars outdoors when it's three below zero with five feet of snow on the ground is fucking miserable.
15÷3. Cobo Center is named for former Detroit mayor Albert Cobo, who campaigned against racial integration of Detroit's neighborhoods*. Cobo Center is painted white in his honor.**
* Unfortunately, this isn't a joke.
** This is supposed to be a joke, but the place has never been painted any other color. I'm just sayin'.
Episode VI: It is estimated that some 6,500 square miles of interior trim pieces are carefully measured and photographed by industrial spies at the Detroit Auto Show each year. Rather than ban non-journalist attendees, show organizers have asked them to limit their activities to those brief intervals when legitimate journalists are attempting to photograph the vehicles.
0000111. In the late 1970s, there were so many muggings around Cobo Hall that the City of Detroit organized a lottery system for perpetrators. The Detroit People Mover opened in 1987, allowing auto show attendees a convenient way to be victimized in other areas of the city.
10) The Detroit Auto Show's dad could totally beat up the Chicago Auto Show's dad.
Nine: Overflow parking for Cobo Arena is at the Joe Lewis Arena parking lot, which is conveniently located next to Madison Square Garden in New York City.
X: Show organizers had to lower the cost of parking after locals discovered it was cheaper to buy a house in downtown Detroit and walk to the show.
© Autoblopnik