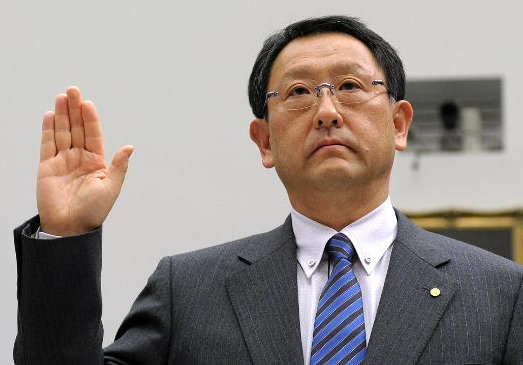 In a stunning move that stunned a lot of people, Toyota president and CEO Akio Toyoda has resigned from the automotive giant that almost bears his family name.
Toyoda's resignation comes in the immediate wake of Henrik Fisker's resignation from the car company that does actually bear his name, a move that Toyoda says inspired his own.
"I didn't realize that quitting was an option," said Toyoda, speaking through an interpreter. "Then I heard that Henrik left Fisker, and I thought, fuck this, I'm out of here."
Akio Toyoda is the great-granson of Sakichi Toyoda, who founded the Toyoda Automatic Loom Works in 1926. The company started producing automobiles in 1937, and had its name changed to Toyota when it came through Ellis Island shortly thereafter. Akio joined the family business in 1984, and took over as CEO after a series of non-family CEOs led to a string of boring cars, ill-tempered floor mats, and buyers who couldn't tell the brake and accelerator pedals apart.
"When I was offered the presidency, I figured it was just something I had to do," said Toyoda. "People hear your name and they say 'Oh, like Toyota the car? Do you work for them? You ought to work for them.' You try to explain to people that no, what you really want to be is a painter, but they just won't listen. Finally I took a job with the company, so I could just say 'Yes I do' and be rid of these assholes, but then they started asking me which one is spelled wrong. God, do I hate people."
Toyoda is generally regarded as a successful leader for his handling of the 2009-2010 recalls, which threatened to destroy the good will Toyota had built up with American customers over several decades. However, Toyoda now says his tenure was one of strife and internal struggle.
"Toyota builds some of the most reliable and unobtrusive cars in the world," he said. "You think I wanted that to be my legacy? Hell no, I didn't. I advocated for switching exclusively to V8 engines with no catalytic converters and glass-pack mufflers. CAFE standards? I'll tell you what you can do with your CAFE standards, President Obammunist. Needless to say, I got a lot of pushback. This is what happens when you try to innovate."
"It's not like working for Toyota gets you girls or anything," continued Toyoda after Autoblopnik had turned off its tape recorder, packed up its stuff, mumbled some thank-you-and-goodbye-noises and made it clear that it had to go, or at least we thought we did, but apparently not. "Enzo Ferrari used to get laid all the time. All he had to say was 'Yes, as a matter of fact, I am that Ferrari.' Ferdinand Porsche was up to his man-boobs in poon, although I think the fact that he knew Hitler helped him out. But when you tell girls you're part of the Toyoda family, you can almost hear their thighs slam shut. All they want know is whether you can get their aunt a discount for oil changes on her Camry. Hey, you want to go get a beer? I've got a massage scheduled this evening, but other than that, my schedule is wide open."
© Autoblopnik