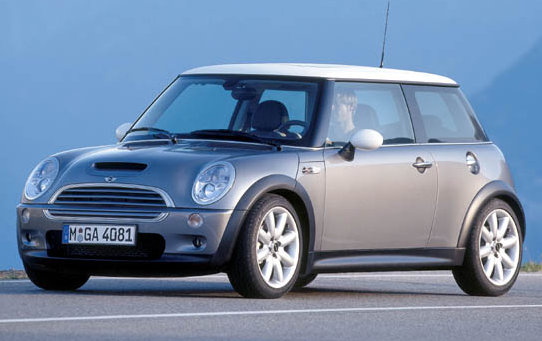 There was much cursing in foreign-sounding languages at today's Los Angeles Auto Show after formerly-British automaker MINI realized they had revealed the wrong car to the press.
"Our plan was to introduce the all-new third-generation MINI Cooper to the assembled journalists," said MINI mini-spokesperson Nathalie Bathhouse, "but it appears that the car we put on stage was actually the second-generation model. Or maybe the first-gen. To be honest, we have a little trouble telling them apart ourselves."
Bathhouse said the mistake was discovered shortly after the reveal, when a blogger no one had ever heard of asked why the new MINI's turbocharged three-cylinder engine looked so much like a supercharged four-cylinder.
A search immediately ensued to find the third-generation MINI that was supposed to be revealed at the show. After several frantic phone calls, MINI staffers discovered that it was in the possession of by Gladys Carpfarter, a 67-year-old retired teacher from Pasadena, California. Bathhouse said the mix-up apparently occurred after one of the show cars was sent to the dealership for a preview last week.
"I went to pick up my car from the MINI dealership after having the oil changed," Ms. Carpfarter told Autoblopnik. "I thought it was quite a bit cleaner than usual, but I never even guessed I had the wrong car until I opened the glovebox and discovered my Koupon Keeper was missing, along with my Glock G19."
An attempt was made to return the show car to Mrs. Carpfarter, but a check of the VIN revealed that the vehicle from the L.A. show was actually a 2008 MINI Cooper S belonging to Bill Keeldover, a demolition accounting student from Azusa. Keeldover was driving a 2005 Cooper belonging to Fannie Slapper, a licensed poet from Bellflower, who turned out to be in possession of a 2010 Cooper S owned by William Schitzmore, an unemployed employment counselor from North Hollywood, who was driving Mrs. Carpfarter's first-generation Cooper.
None of the affected owners realized they had someone else's MINI.
"Obviously, we're very embarrassed and want to be sure this doesn't happen again," said MINI spokesmini Bathhouse. "We're very fortunate that of the hundreds of journalists who witnessed the unveiling, not a single one of them realized we were showing them the wrong car."
© Autoblopnik