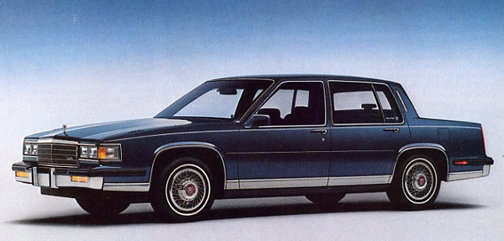 Responding to the 325-page Valukas report, which cited "incompetence" and "a plodding corporate culture" as reasons for the Cobalt ignition switch defect, General Motors CEO Mary Barra said the company will embrace a culture of change, including its approach to building automobiles.
"Clearly, General Motors needs to change the way it has been doing things," said Ms. Barra, "and one of the biggest changes is that we need to stop making shitty cars."
Ms. Barra, speaking to journalists through an interpreter, said that shitty cars have been a long-standing tradition at General Motors.
"Shitty cars have been a long-standing tradition at General Motors," she said. "And I'm not just talking about the 1970s and the 1980s and the 1990s, when we focused almost exclusively shitty cars. Most of our vehicles have had some element of shit to them, like the cheesy-ass interior on the Corvette ZR1 or the God-awful seats in the Cadillac CTS-V. Sixty years ago, when we introduced the original Corvette, we fitted it with an ancient six-cylinder engine and a two-speed automatic. Seriously, how fucked up was that? Only a company with a serious commitment to shitty cars would do something so bone-headed."
General Motors corporate historian Gil Dustifartz told Autoblopnik that General Motors has a long history of shitty cars, dating back to before the corporation was formed.
"Back in its day, the Curved-Dash Oldsmobile was known as the Squeaky-Dash Oldsmobile," he said. "And let's not forget that Chevrolet was started by a French guy, and no one knows more about shitty cars than the French. Yes, you could say that shitty cars are part of General Motors' corporate DNA."
UAW president Bobk Ing, whose name has been changed to prevent retaliation against Autoblopnik and its staff, said the union would cooperate fully with GM's plans to stop making shitty cars.
"Obviously, this is a sad moment for us," Ing told a pert young Autoblopnik intern. "The UAW has always taken pride in its contributions to GM's shitty cars. Frankly, there's no feeling quite like banging a trim piece on slightly crooked because your supervisor gave you the stink-eye in the lunchroom. But we're committed to the future of this company, and if Mary wants to stop building shitty cars, then the union will cooperate fully, at least until our next contract negotiation or the next time the vending machine at the Flint plant runs out of peanut M&Ms, whichever comes first."
© Autopblopnik