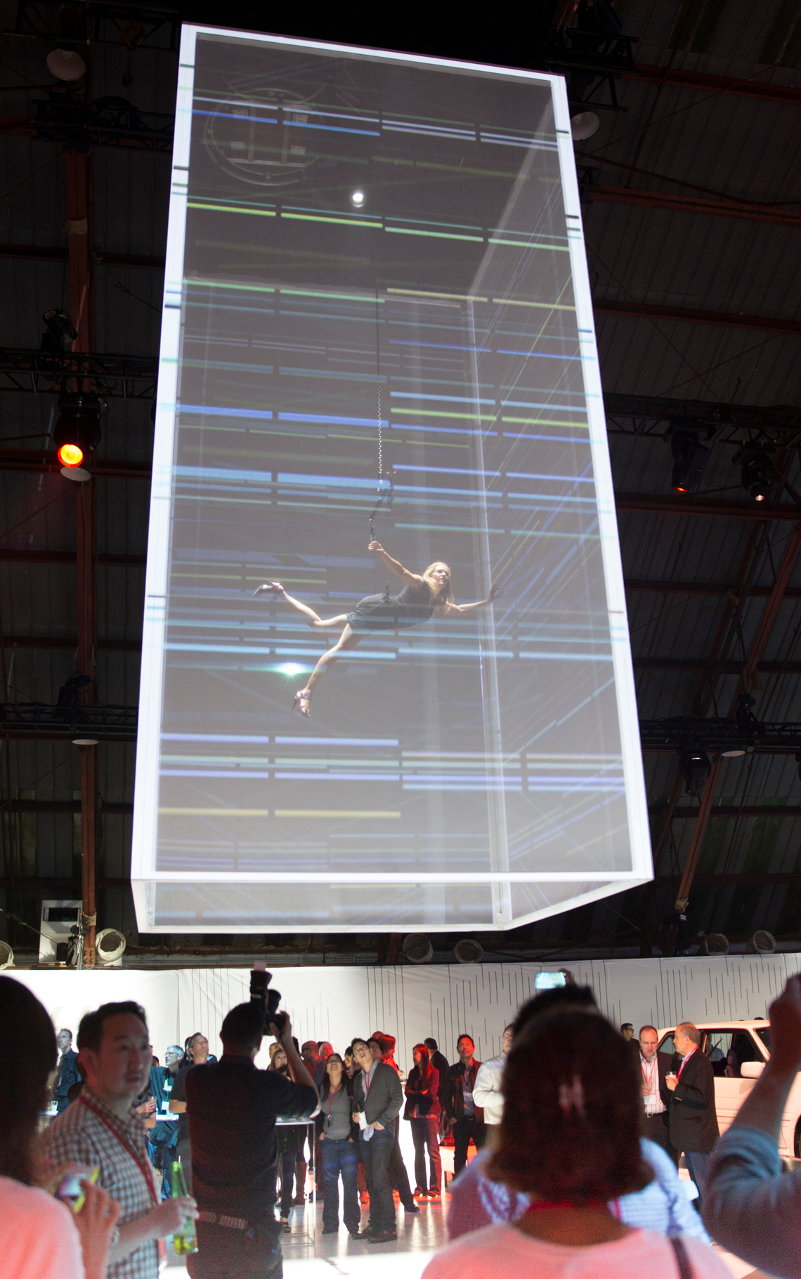 Toyota thrilled and delighted the automotive media with a theatrical extravaganza from Argentinian group Fuerza Bruta and side-splitting laughs from comedian Adam "No, the Adam who didn't get on Top Gear" Carolla, all while getting them bombed off their asses on libations prepared by celebrity chef Richard Blais.
"It was an amazing event," said Autoblopnik  correspondent Clifton Faghands. "They had a chick swimming in a pool suspended above our heads, which was way the hell cooler than the mermaids Hyundai hired for their Elantra reveal. And Blais' food was amazing — the roast pork belly he made was way better than anything I've eaten at any German press event. I don't know how the hell that kid managed to lose Top Chef."
The performance included dancers running on the walls and showering the crowd with bits of ripped-up cardboard, and an acrobatic act that our correspondent described as "A chick in a box."
"Our goal for this irrelevant extravaganza was to set a new standard for irrelevant extravaganzas," said Toyota spokesman Moe "Lest" Tomy, "and by and large, I think we achieved that. By spending millions of dollars to thrill and delight the supposedly objective media, we can… we can… um… damn, I forgot. The point I'm trying to make is that we spent millions of dollars and we had Argentinian babes hanging from the ceiling! When was the last time you saw shit like this at a BMW event?"
"The circus act was really something," Faghands reported, "but the highlight of the evening was a joke Carolla made about having the same name as a Toyota. The crowd roared. We never saw that coming."
At the end of the performance, Toyota revealed a car.
"I think it was red," said Faghands, "but after seven of those nitrogen-cooled margaritas, I'm not really sure."
© Autoblopnik