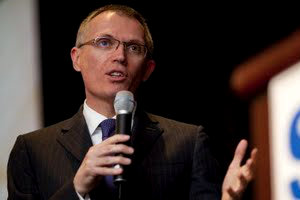 Following a rebuff by both General Motors and Ford of his expressed desire to head up either company, Renault COO Carlos Tavares tells Autoblopnik he would be willing to take over as the Easter Bunny if the job was offered to him.
"I have a wealth of experience that would serve me well as the Easter Bunny," Tavares said. "Being the Easter Bunny is all about hiding things. I can hide things. Under my leadership, Renault has specialized in hiding things like style, refinement and quality."
Tavares said he thinks he would actually be best suited to take the position of Santa Claus, but he did not think this position was likely to open up.
"St. Nick is only a few hundred years old," he explained, "so the chances that he's going to snuff it before I hit sixty is pretty damn slim. Not going to hold out hope for that one."
Tavares said he hasn't actually spoken to anyone involved in Easter management about his desire for the position, but he felt positive that putting the word out via a major news venue like Autoblopnik would do the trick.
"It can't go any worse than telling Automotive Nudes that I wanted to run GM or Ford," he said. "Man, what a clusterfuck that turned out to be."
Jesus Christ, chairman and head of public relations for Christianity, said that Tavares had not reached out to the religion directly, and that they were not looking to replace the Easter Bunny any time in the near future.
"This is primarily a family business, and we prefer to promote from within," He said.
© Autoblopnik