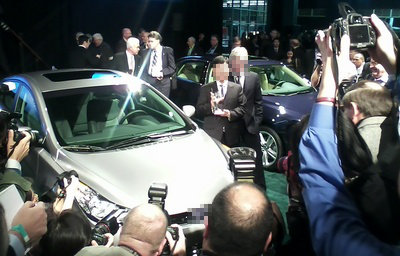 Of the billion or so Car of the Year awards that have recently sprung into existence, here are a few more.
The 2014 Infiniti Q50 has been named Car of the Year by the Self-Pleasurists Organization Of Greater Englewood.
"We were impressed by the Q50's advanced suite of driver-assistance technologies," said SPOOGE president Jack 'Lefty' Fapper. "Features such as Intelligent Cruise Control™ and Direct Adaptive Steering™ with Active Lane Correction™ allow the car to effectively drive itself, freeing up the driver's hands for more personal and pleasurable activities."
The British Motor Pressing Association announced that their Motor of the Year Award would be awarded to "whatever the newest Jaguar is."
"Nowadays, we just send the Jag chaps a blank trophy and let them fill it in themselves," explained The Right Honorable Sir Fenton Carlton Basset Regent Milk-Twattler XIVnd, Fifth Earl of Bixton-On-Puddle Twice Removed. "That way, we can get back to doing what we do best, which is whinging about the sorry state of the British auto industry and how the bloody Germans do everything better."
For the seventh year in a row, the American Association of Elderly People named the Buick Lucerne as its car of the year, despite the fact that the Lucerne went out of production in 2011.
"We were supposed to give it to another car, but none of us can remember which one," explained Al Derly, AAEP's chairman-in-chief. "Maybe my wife Mabel knows. Are you Mabel? Sorry, of course you're not Mabel, you're the delivery boy from the Chinese. Come on, I'll show you where the piano is. So, your majesty, do you really think both molars will have to come out?"
The American Association of Lifestyle Bloggers Who Don't Know Any Better gave their Car of the Year award to the Toyota Yaris.
"The Toyota folks put on an amazing event for us," said Kirk Scrotum, founder, head reporter, and-editor-in-chief for MinnesotaBeerHiker.wordpress.com and spokesblogger for the LBWDKABCOTY. "We stayed in a Holiday Inn with a pool, we got a ride around the block in a brand-new Yaris, and they had the whole thing catered by Subway! They even told us what web sites could give us the best deal on plane tickets. We were really impressed."
Moat Door Trend Magazine gave its Car of the Year award to the Chevrolet Malibu, a choice they say will be understood by anyone who read car magazines in 1991. Import Car of the Year went to the Chrysler 200.
Meanwhile, the prestigious North American Car And Truck Of The Year Jury gave their prestigious North American Car of the Year Award to the Maytag MET3800XW stacked electric washer-dryer, while Prestigious Truck of the North went to an Australian ringneck parrot named Keith.
"With so many imitators popping up," said prestigious NACATOTPYJ spokesman Kim Grossout, "this is the only way we can stand apart from the crowd."
© Autoblopnik