by Amanda Twatler-Perkins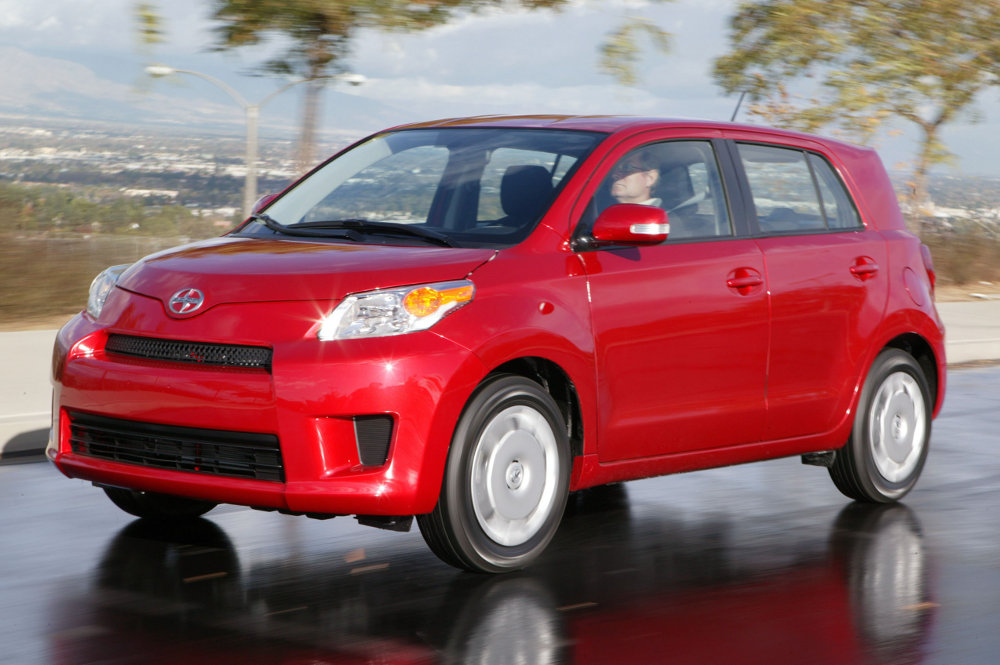 Since I mostly blog about baby products, I was surprised when Scion called me up and asked me if I'd like to review the all-new Scion xD! I didn't even know what a Scion xD was, but I said I sure! A break from writing about baby strollers and nipple shields would be welcome!
A PR person from Scion showed up with a cute little red car that was sooooo cute! Baby Emma loved the red car! She kept saying "Red ka, mommy! Red ka!" The Scion PR person told me the xD had been completely redesigned for 2014 with new chrome around the stereo knobs and thicker padding on the sun visors! She said something about the engine but it was hard to pay attention because baby Emma was getting hungry and fussy! But the Scion xD is a really cute car!
The Scion PR person asked me if I wanted to drive the cute red Scion xD, and of course I said yes! There wasn't room for baby Emma's Graco® Nautilus® 3-in-1™ car seat with SafetySurround Protection™
, so we had to leave her at home! Oh well, every busy mom needs some "me time"!
The Scion xD was so sporty! I got on the highway and stepped on the gas and it zoomed away almost as quickly as my Toyota Sienna! And it felt so much smaller and sportier! The Scion PR person and I talked about knitting! She knits too! How cool is that, two knitters in the same all-new 2014 Scion xD! I even zoomed around a corner! Then we went to get massages and pedicures, and the Scion xD was soooo easy to park! The Scion xD was so sporty and so much fun!
When we got back home, I found the babysitter passed out on the couch after drinking a bottle of Nyquil and baby Emma playing in a pile of her own feces, but I had so much fun driving the all-new 2014 Scion xD that I didn't care! The nice PR lady from Scion helped me clean up the cat vomit, and then baby Emma and I said goodbye to her and the cute little Scion xD! I was soooo sad to see her drive the cute little Scion xD away! It almost made me wonder what my life would be like if I hadn't let Brad get me shitfaced on ecstasy and beer the night we got pregnant with baby Emma!
The all-new 2014 Scion xD is a great car! I'm so glad I got a chance to drive the all-new cute little Scion xD! Everyone who wants a great little sporty car and doesn't have a baby should buy an all-new Scion xD!
Amanda Twatler-Perkins is Mom-In-Chief of DiapersAndDreams.com. She has a bachelor's degree in English and lives in Pasadena, California with her daughter Emma and husband Brad.
© Autoblopnik