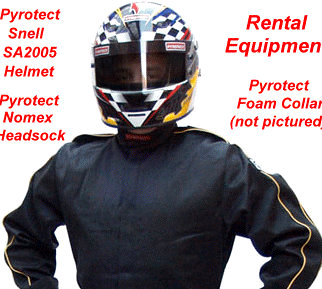 Bick Skruth is an experienced racer, author, and forensic flatulence inspector. He is the Editor-at-Awesome for True Shit About Cars and contributes to several other web sites, including our own.
Good morning, pidgeonlickers! I want to thank all of you who clued me in to the fact that a certain British web site has been writing parodies of yours truly. Those of you who don't know what I mean, visit the site look for the articles that aren't funny. Oh, sorry, that describes all of them. I'm talking specifically about the stories starring a certain character that the writer named after something that goes into his mother's tuna chasm on a daily basis. Something besides my 100% all-beef jumbo-size love missile, that is. Mankswallower.
Do I care that my whole persona is being ripped off by some nameless lame-ass writing an obscure web site in a country where they think boiling water is the pinnacle of technology? Not on your life, fatasses. We're talking about a nation that thinks it can look down on the United States of Fuckin' America because their pansy-ass version of IndyCar involves turning in both directions, even as they attempt to bog it down with so many rules that it's beginning to resemble that bastardized form of baseball they play over there. Colonspankers.
Oh yes, I've raced in England—Fuckwood, or whatever they call that dinky-ass Laguna Seca wannabe. How'd I do? I crashed one of those underpowered BTCC shitboxes before the second turn. DNF, they said. Damn skippy, putzmanglers, and that stands for Doing you a Nutbusting Favor. I could have set a lap time so low they'd need an atomic clock to record it, but why compound the misery of living in a place where no one's had the bright idea to combine beer with modern refrigeration equipment or teeth with modern dental instruments? Jellofuckers.
And who is the weasel-faced genius behind this half-arsed attempt at parody? I won't name names, but he's a has-been former hack for whatever the hell they call the overgrown version of PBS they watch over there. His job was to make Jeremy Clarkson funnier, which is about as much of an accomplishment as making Donald Trump more obnoxious or making my Honda Accord more awesome or making my hot-ass girlfriend less willing to touch my passion pump. His career came to a crashing halt when Jezza's knuckles kissed that producer's peach fuzz, and now he's got nothing to do but polish that overpriced Jeep Cherokee wannabe in his driveway and try to generate a few guffaws by ripping off the style of a Real Deal racer, journalist, musician and acquitted sex offender whose farts are more literate than he is. Donkeywarmer.
Oh, and if this chickenshagger wants to know MY name, he can just put a glass to the wall of his sister's bedroom and listen. Toespackler.
So why am I not more upset over this British blasphemy of the most incredible thing to happen to the auto writing biz since the advent of the frequent flyer program? Because in the grand scheme of things, none of it really matters. After all, what is this Limey loser but just another pontificating pansy standing at the platform of Fat City waiting for the gravy train to roll in so he can climb aboard and start humping the hands that feed him? The car-buying public needs him about as much as they need cockrot. No one cares. No one is listening. Nothing ever changes, and it doesn't matter whether you live out your four score and ten or take a swan dive into the path of a speeding Mack truck while the whole neighborhood cheers you on. Life is nothing but a big, loose, smelly shit, and each and every man, woman and child on this poor pitiable planet is a porcelain bowl open wide and waiting for the next mouthful.
Except, of course, for you, my readers, who are the biggest, boldest, bravest, and most non-attainable things this side of my hot-ass girlfriend's right breast. Peace out, blanketspoogers!
You can read more from Bick Skruth at TrueShitAboutCars.ru.
© Autoblopnik