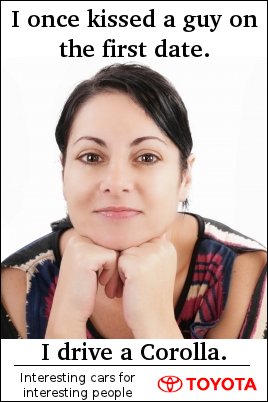 In an effort to dispel the notion that both the Toyota Corolla and the people who drive them are insufferably dull, Toyota has announced a new print advertising campaign entitled "Corolla Drivers Are Interesting". Modeled loosely after Microsoft's successful "I'm a PC" ads, the campaign highlights real-life Corolla owners who have interesting habits, hobbies or pastimes.
"We want to turn the Corolla into an aspiration product by showing that Corolla drivers are more than just mindless drones who make boring, predictable decisions," said Hortense Preoccupied, Toyota's brand advertising manager. "These ads show real Corolla drivers who have interests well beyond the ordinary and mundane. These are exciting people that other less-exciting people will want to emulate."
Subjects for the ads include an accountant who once intentionally wore two different colored socks to work, a college student who routinely stays up past ten PM, and a middle-age couple that orders their bacon cheeseburgers with extra cheese and extra bacon. Toyota did say they rejected an ad featuring a young professional woman who sometimes has sex with the lights on as "too racy" for the Corolla's target market.
Toyota's advertising agency, Cultem Moore Howe Stravinsky Beaman Kyle Smith-Whorton and Brown, says they have only produced a total of six ads so far, but with approximately 4 million Corollas currently on the road, they are hopeful they can find one or two more subjects by the end of the year.
© Autoblopnik