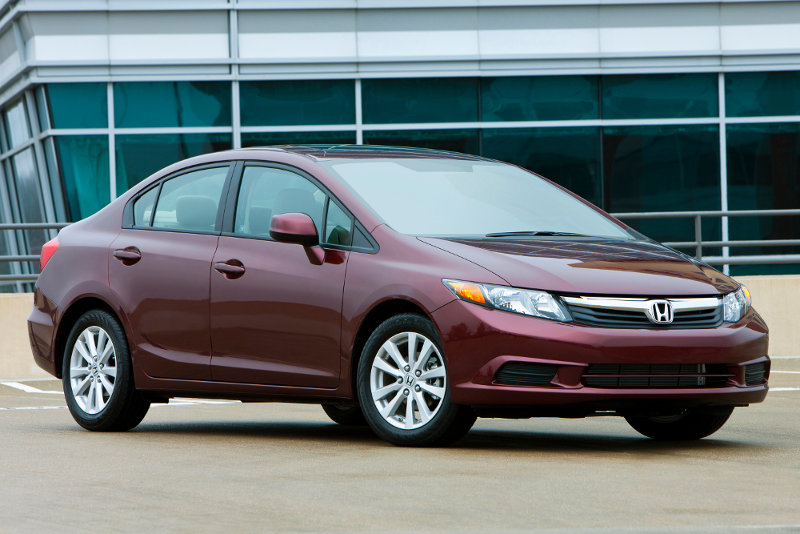 Just months after releasing an updated 2013 Civic to replace the critically panned 2012 Civic, Honda has announced that it plans to undo the 2013 changes for the 2014 Civic.
"We honestly felt the 2012 Civic wasn't our best effort," said Honda spokesmartin Martin "Chris" Chrismartin. "But we underestimated the herd mentality of Honda buyers. The sales success of the 2012 Civic was a real wake-up call for us. Sometimes you get so focused on the product that you forget your customer base is made up of mindless sheep."
The 2012 Civic was derided by the press for its cheap interior, mediocre handling dynamics, and derivative styling. But it was a hit with consumers, with sales of the 2012 model exceeding the 2011 Civic by well over 40 percent, even in the face of tsunami-related parts shortages, fluctuations in the yen, and a tribe of psychotic dwarfs who would hide in the back seat and then pop up and smack the shit out of potential customers during their test drive.
Months before the 2012 Civic went on sale, Honda embarked on a "crash redesign" of the sedan, including new front and rear fascias, improved interior materials, and a recalibrated suspension. The Civic coupe was left unchanged because, according to Chrismartin, "We sort of forgot about it."
Initial reviews of the 2012 Civic indicated that Honda had made the right decision, Chrismartin told Autoblopnik, but early sales numbers proved the changes were unnecessary.
"We spent a lot of money per car updating the interior, when we could have just kept feeding our buyers the same old shit we've been serving up since the 1980s," he lamented.
The sales success of the 2012 Honda Civic was an embarrassment for Consumer Reports Magazine, which said the car "scored too low in our tests to be recommended."
"I believe in that same issue we also said that Kenmore washers were made of radioactive squirrel turds and that Wisconsin governor Scott Walker's brain was being controlled by robots from the planet Beyalazak," said Consumer Reports COO Larry Bunin-Oven. "Clearly, we were having a bad month."
Asked if Honda had any changes planed for 2015, Chrismartin insisted Honda is "done futzing with the Civic," and added, "Frankly, we've got our hands full with all the stuff we fucked up on the 2013 Accord, and we're pretty sure everyone is going to hate the Fit-based sport utility that we have coming year after next. Don't worry, we have plenty to keep us busy."
Related: Honda redesigns Civic to please people who won't buy it
© Autoblopnik