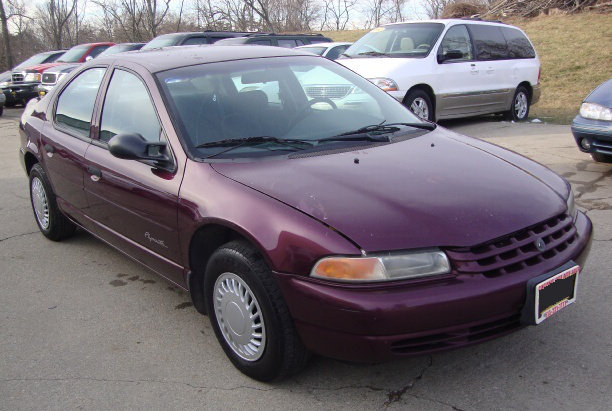 There was shock, surprise, and much shitting of gaudy golf pants on Sunday when it was announced that the coveted Best of Show award at the Pebble Beach Concours d'Elegance was being awarded to a 1998 Plymouth Breeze.
"We are pleased to bestow the Best of Show award on an unrestored original example of a bygone American make," said Ree Dikuluspantz, Chief Class Judge Chief Honorary Judgechief of this year's chief judging class committee. "The Plymouth Breeze was rare enough in its day, and to find a fourth-owner unrestored original in operating condition, and furthermore one that is still being used in the manner for which it was designed, is an honor that few concours judges will get to experience."
Assistant Chief Judge Class Alvin Uglytrouzerz said he chose the Breeze because it represented something different from normal Pebble Beach fare.
"Frankly, if I have to look at one more Ferrari or Deusenberg or Bugatti while some blowhard in ridiculous pants tell me how the supercharger inlet valve casing bears one of Fangio's fingerprints and the leather upholstery still has traces of blood from the night F. Scott Fitzgerald did too much coke in the passenger seat, I'm going to throw the hell up," Uglytrouzerz told Autoblopnik.
The winning car, an Expresso [sic] model still wearing its original factory Deep Amethyst Pearlcoat paint, belongs to Vince "Dookie" Dookerwicz, 23, of Watsonville, California, an employee at one of the Concours d'Elegance's concession stands.
"I parked my car next to the tent to unload a couple of cases of sesame buns and some Slurpee mix, and when I came back out, the car was surrounded by a bunch of old guys with funny-looking pants and clipboards," Dookerwicz told Autoblopnik. "I got in trouble with my boss last year for bumming a cigarette off one of the ladies attending the show, so I just shut up and stayed out of the way. Next thing I knew, they were handing me a trophy."
Dookerwicz said he was genuinely surprised at the win, and was especially pleased when a Pebble Beach representative presented him with a bottle of Dom Perignon, which Dookerwicz was confident would be regarded by his girlfriend as a reasonable substitute for foreplay.
"If had known the car was going to win Pebble, I would have taken out the baby seat and maybe tried to clean the vomit out of the floor mats," Dookerwicz told Autoblopnik. "And I also would have worn sillier pants."
© Autoblopnik – Hat tip to Mark Retchin's pants