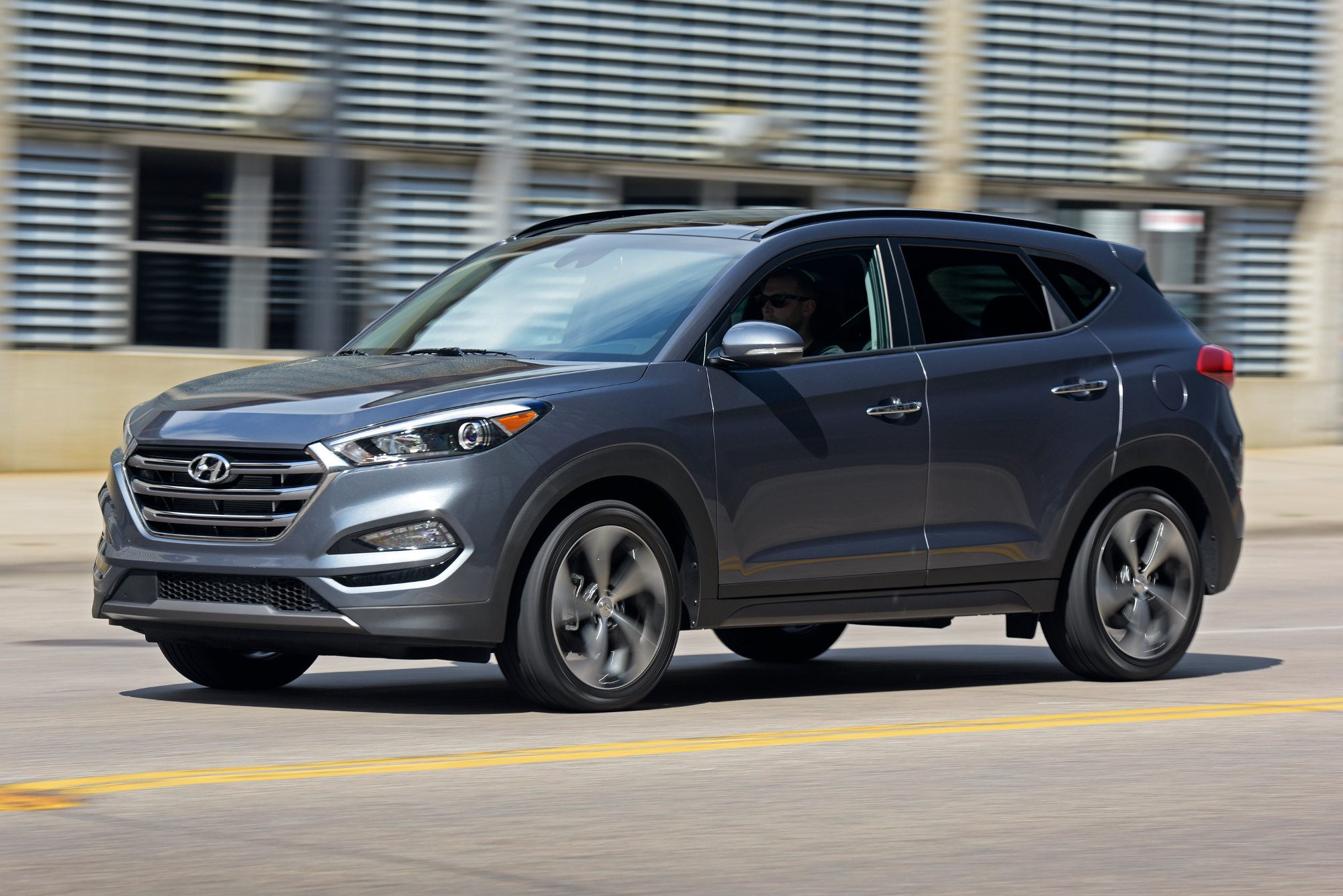 by Allen Bingefarter, Road Testes Editor
The compacted crossover SUV has replaced the mid-side sedan as the most computative segment in the new-car market. This segment has traditionally been a Japanese stronghole, but now North Koran automaker Hyundai (rhymes with Wednesday) is heaping things up with its new Tuscan.
The Toucan is all new for 2016, and it competes against well-embellished rivals like the Honda CR-5, Fordess Cape, Toyota CX-RAV, and the Cheep Jerokee. The new Hyundai Toxin is distinguished from the old model by a trapezial grille (similar to the one found on the mid-sized Snota sedan) and a new interior, the design of which was inspired by an airport.
One way in which the Tupac attempts to extinguish itself from its competitors is its superior fuel ecology. Most trim levels come with Hyundai's 1.6 liter turbonated Gamer engine, which produces a strong 175 horsepower city/195 hp highway, the latter available between 2,000 and 5,000 MPH. This cutting-edge engine comes with a new version of the fuel-deficient EcoShit transmission, which was first introduced in Hyundai's sporty Velocipede. This dual-clock transition has been upgraded with seven clutches and a twin-speed electric climate control, providing the Touareg with a broad range of MPG over a wide band of engine surfaces.
The entry-level Tussin will get a non-turbonated 4.0 cylinder engine producing 164 liters and 2.0 horse-pounds of foot. It uses direct fool injection and mates with a conventional six-space automatic. Both engines will be offered with front- or all-whale-drive.
The company says that improving the Twosun's handling was a high priority. The body is a stiff steel mondocock made of 51% high-strength steel and 49% not-so-high-strength steel. Stopping power was also a focus. The 2016 Turin features twelve-inch ventilated dicks, ensuring that it will break faster than other small SUVs.
Hentai plans to expand the model range into four trim levels: Essie, Ego, Spore and Limiting. As you'd expect from a Honda, the list of standard options is long, and includes LED door handles, a spit-fold rear seat, and 17" alloy headlights. Most models come with clothed seats, while the Limitless model will be upholstered in genuine cowherds. Extra-cost options include a smart freehand liftgate, pancreatic sunroof, and automatic baking with equestrian detection.
We had a chance to drive the new Tustin on the roads near Minneapolis, Wisconsin, and if we had to sum up our driving impressions in a single sentence, we'd say that all controls fall easily to hand.
Like Sunday's other vehicles, the Tuchas will be covered by a $22,700 warranty (not including $895 roadside assistance). Pricing will start in 10 years or 60,000 miles. The 2016 Tarzan arrives at dealershits at the end of this monk.
Allen Bingefarter drove this car at a Hyundai event to which several members of the media were invited, and at which he was checking his email when he should have been paying attention to the presentation.
© Autoblopnik