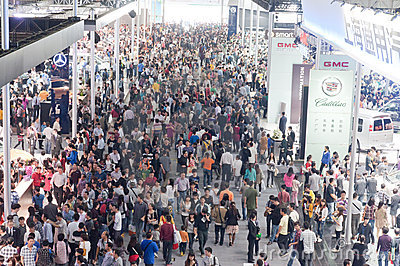 As the 2013 Detroit Auto Show comes to a close, it appears that the show may finally be having the desired effect of convincing Detroit residents to buy foreign cars.
"I've owned Chevrolets all my life," Chase Takashowa, a life-long Detroit resident, told Autoblopnik. "So did my daddy, and so did my daddy's daddy. Never liked them little Jap shitboxes, not one bit. But after seeing Nissan's new display stand at the Detroit Auto Show, I'm thinking maybe I've been wrong. That new Versa Note is a hell of a car."
By some estimates*, upwards of 92% of Michigan residents buy American cars, and many** have questioned whether the high cost of a stand at the Detroit show is a worthwhile investment for foreign automakers.
* Ours    ** Us and some other people
"Detroit is a tough market to crack," said Toyota spokescracker Ming-Joe Tetherton. "We've been showing cars here for decades, spending millions of dollars and to little effect. But I think 2013 is the year we will finally make some inroads."
Gil Chesterton, an assembly-line worker at Ford's Wayne Stamping plant, agrees. "I used to think the Nips were here just to steal our jobs, buy up our real estate, and take over our country," he said. "But the fact that Toyota chose to reveal the Corolla Furia here rather than in Liberalifornia, well, that makes me wonder if perhaps I've judged those little yellow motherfuckers too harshly."
Jehanne Austen of Flint agrees that the Detroit show could be the key to the hearts and minds of Michiganders.
"My family was devastated by the so-called 'Japanese Invasion,'" she said. "My father lost his job when GM closed the Buick City plant. He committed suicide by beating himself to death with his own shoe. My mother and my youngest brother had to work as prostitutes to feed our family. After what they did to us, I swore I'd never even sit in a Japanese car as long as I lived. But this year's Detroit show changed my mind. Did you see that new Honda Urban SUV concept? I want one of those!"
© Autoblopnik