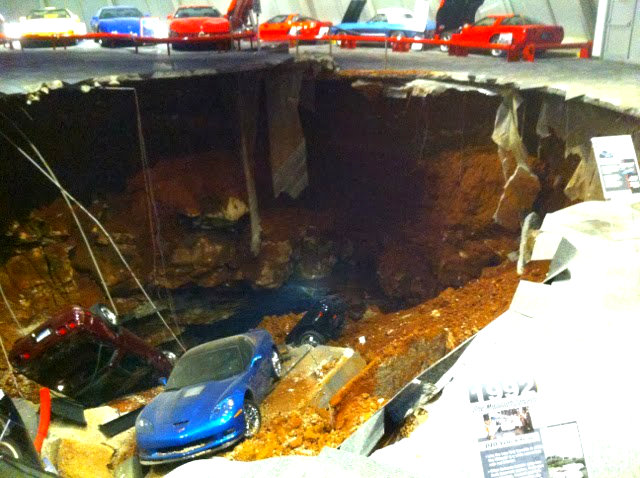 The Bowling Green District Attorney announced today that Porsche has been arrested and charged in relation to the sinkhole that opened up under the National Corvette Museum, swallowing eight vehicles and several pieces of Corvette memorabilia, including an irreplaceable collection of mustache combs.
Though the initial cause of the disaster was determined to be natural, Bowling Green Chief of Police Chee Fuvpulees told Autoblopnik that clues at the scene pointed to foul play, most likely by rival company Ford. Investigators found Mustang tire tracks on the grass and a note in the wreckage that read "This is what happens when you make a Camaro more powerful than the Shelby Mustang, you bow-tie bastards!"
"We thought it was an open and shut case, but Ford's alibi checked out," Fuvpulees said. "Ford claimed to be in the lab trying to figure out how to make the Fusion Hybrid actually get 47 MPG."
Fuvpulees said the big break came when they were investigating the mechanism that caused the sinkhole.
"We focused our initial investigation in the area of the 1984 PPG pace car, since that's where the sinkhole appears to have opened up," he said. "But one of our agents found a remnants of a small explosive device near the ZR-1 Blue Devil prototype, which was one of the last cars to fall in. When we realized the device that made it go was located in precisely the wrong spot, we knew without a doubt that Porsche was behind the whole thing."
Through cell phone records, police traced Porsche to a small motel on the banks of the Incest River, just a few miles from the museum in Bowling Green. Fuvpulees said Porsche was sitting on the porch, reading a copy of Henry Ford's Jewish Influence in American Life, and was arrested without incident. The DA says Porsche will be charged with willful destruction of property, conspiracy to blame a sinkhole on someone else, and wrecking Corvettes out of season.
"I wanted to teach them a lesson about making a cheap sports car as good as the 911," Porsche said as it was being led away in handcuffs. "And I would have gotten away with it, too, if it wasn't for those meddling kids!"
The National Corvette Museum announced that General Motors Design had volunteered to assist in the restoration of the damaged Corvettes.
"This is why we made them out of cheap-ass plastic and fiberglass," said GM VP of Design Ed Wontburn. "A little duct tape, a little Krazy Glue, a little touch-up paint, and they'll be good as new."
© Autoblopnik – Hat tip to RR and hats off to General Motors for stepping up and helping out!