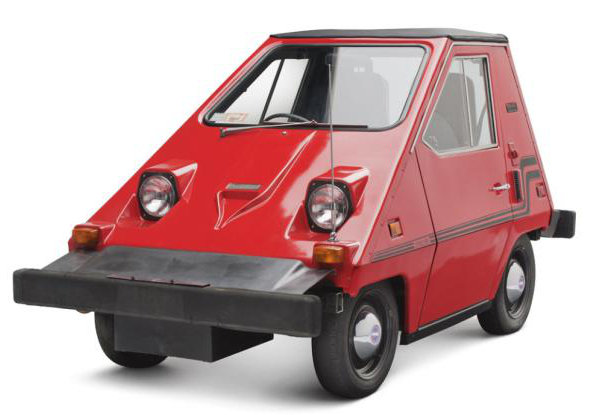 The Internets are abuzz with speculation about the Tesla Model 3, which will be revealed tonight in a super-secret ceremony at an as-yet-to-be-disclosed confidential location somewhere in the vicinity of 3203 Jack Northrop Avenue in Hawthorne, California, take the 105 freeway to Crenshaw Ave. and turn right. Though the details remain confidential, we are able to speculate based on others' speculations.
Tonight's reveal may not show the complete vehicle. This required a massive and expensive coordinated effort to contact all of the major dictionary publishers in order to change the definition of the word "reveal".
The entry-level Model 3 will have a base price of $35,000*.
* Batteries not included
Thousands of people are literally lining up to put down a $1,000 deposit without knowing what the car will look like, what kind of range it will offer, or how much it will cost. This has led to a sharp rise in sales of the Brooklyn Bridge and beachfront property in Arizona.
Tesla will give the first purchase options to existing Model S and Model X customers so they'll have something to drive while their other cars are in the shop. Roadster owners can fuck off.
Gigafactory 1, the Nevada plant that will build the car, is scheduled for completion in 2020, just in time for the Model 3's scheduled introduction in 2017. Currently the factory is 14% complete, and it is expected that the first customer cars will be 14% complete as well.
Of the Gigafactory's 13 million square feet of space, at least 4 million square feet is expected to be dedicated to gaming, including baccarat, pai gow, and the loosest slots in the automotive industry.
Given the Tesla owner profile—high satisfaction despite below-average quality—Tesla may announce an expansion into products such as hair plugs, anti-aging cream, and heroin.
Elon Musk originally wanted to name the car the Model O so that the three model names would spell SOX, but this turned out to be a trademark owned by a baseball team in Illinois. He considered calling it Model A, but was stopped by the Selmer Horn Company. The car may still be called the Model U unless a competent public relations manager can be hired in time.
The Model 3 lineup will eventually include a sedan, a 5-door hatchback, a 3-door hatchback, a coupe, a convertible, a compact SUV, a pickup truck, a small van, a large van, a flatbed truck, a cement mixer, a car carrier, a copy of the Encyclopedia International, a trip to Maui, and a year's supply of Rice-a-Roni, the San Francisco Treat.
Elon Musk and Steve Jobs have never been seen in the same place at the same time, and Jobs had a closed-casket funeral. I'm just sayin'.
P. T. Barnum was right: One per minute.
© Autoblopnik