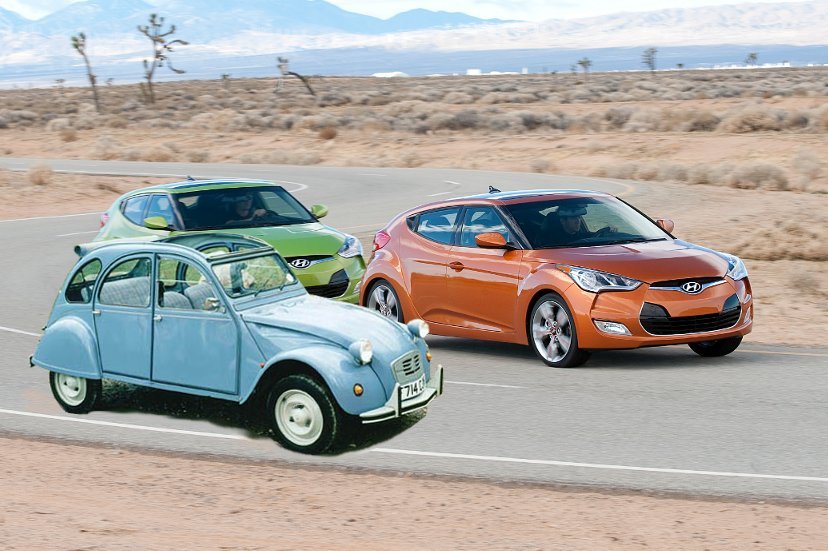 Concerned about media reaction to the performance of the upcoming Veloster Turbo, Hyundai has decided to fit a less-powerful engine to the base-model Veloster in order to widen the performance gap between the two cars.
The Veloster Turbo reportedly accelerates to 60 MPH in about 8 seconds, while the normally-aspirated Veloster has been tested in the low-to-mid 9-second range.
"In order to convince the media that we are competitive in this segment," says Hyundai spokesman Miles Trailer, "we need a gap of at least three seconds."
Asked if an 8 second 0-60 time was sufficient for a turbocharged performance car, Trailer said, "Of course it isn't, but who does instrumented testing these days? Just the major magazines, and no one reads those anymore. We know the Veloster Turbo is slower to 60 than a Honda Odyssey minivan, but as long as it feels faster than a regular Veloster, that's all they care about. More importantly, that's all they'll write about."
Hyundai says they plan to have several competing performance cars available to journalists at the Veolster Turbo's press preview, including a Volkswagen Karmann Ghia, a Fiat 850 Sport Coupe, and a Honda CRX HF with one of the spark plug wires disconnected.
Asked why Hyundai did not simply improve the performance of the Veloster Turbo, Trailer told Autoblopnik, "Because that would cost more money, and you know how the big wigs in Korea get when we spend money. Hell, they wouldn't even let us spend the cash to put the same number of doors on both sides of the car."
Last month, Hyundai's Ulsan plant began producing Velosters with a de-stroked version of the 1.6 liter Gamma engine. A modified crankshaft reduces displacement to 1.3 liters, dropping horsepower from 138 to 96 and torque from 123 lb-ft to 89 lb-ft. In an exclusive interview with chief engineer Kyu Bong Kim, Autoblopnik asked about the effect on fuel economy, but Kim was unable to tell us because he does not speak English and Hyundai did not provide a translator.
Early tests show a 0-60 time for the modified Veloster of about 12.5 seconds, but if the car proves too quick in real-world driving, says Trailer, "We still have some carbureted 1.5s from the Excel back in the warehouse."
Hyundai says that retroactively fitting the modified engines to Velosters already on the road would be cost prohibitive, but they have issued a manditory Technical Service Bulletin that consists of retarding the ignition timing and dropping a couple of balled-up gym socks into the air cleaner box.
© 2012 Autoblopnik